FLO TV Shuts Down and Ways to Stream Live TV to Your Phone
Bummer: FLO TV Bites the Dust
I hardly knew ye, FLO TV. Just when I was getting pumped about the idea of streaming live TV to my smartphone with the help of a steadfast (and battery-saving) Mophie Juice Pack, this disappointing news falls into my Google Reader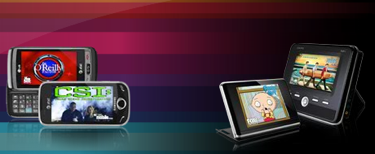 — FLO TV has been axed. The Qualcomm-owned company was hoping to bring live and on-demand TV to the masses through its many flavors of portable devices (including smartphones), but after failed attempts to find a buyer, Qualcomm has decided to shut down FLO TV despite awesome buzz during this year's CES expo.
But not all hope is lost for mobile TV-lovers out there — there are other ways to get your favorite shows on the go. Want some examples? Then just keep on reading.
Check out these other ways you can stream TV and movies to your mobile devices:
For $10 a month you can get unlimited content from Hulu Plus sent to your iPhone, iPod Touch, and iPad.
BlackBerry users can rejoice with Bitbop, which will bring you TV shows like Glee and 30 Rock to your handset.
Get your entire Netflix instant queue on your iPhone or iPod Touch with its new free app and a $9 a month subscription.
Dish Network customers can enjoy live satellite TV on their mobile devices, including iPhones, iPod Touches, iPads, and BlackBerrys.
Similar to the upcoming Google TV service, Clickr.TV can stream on-demand movies and TV shows to your iPad from Netflix and various sites from around the web. Oh, and it's free.
Got a SlingBox? Good news — you can download an app that lets you stream your live and recorded content on your smartphone. iPhones, BlackBerrys, Android, Palm, and Windows Phones included.
Obviously if you have an iPhone, iPad, or iPod Touch, your go-to on-demand movie and TV service is iTunes. Still a great way to get the shows you want on the go.
Know of any tricks, apps, or services that let you watch TV and movies on your mobile that you don't see here? Leave your tips in the comments!