Facebook Announces Video Calling With Skype
Facebook Announces Video Calling With Skype, Group Chat, New Chat Design
Mark Zuckerberg announced a few new features coming to Facebook this morning live in Palo Alto: group chat (along with a new chat design) and video calling with Skype integration. After a brief overview of the current state of Facebook (its now at over 750 million users), Mark got into the details of all three of these items. Find out more about each one below.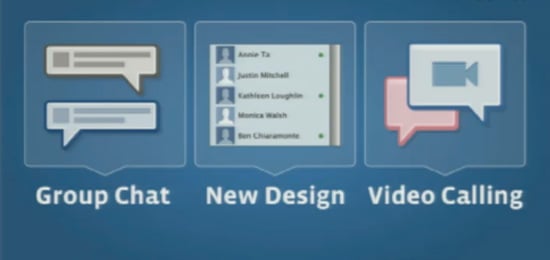 Video Calling
In a partnership with Skype, Facebook will allow video calling to other Facebook users for free. Using video calling is simple: log in to Facebook, select a friend to video chat with, then select the "Start a Video Call" button. Video calling will be one on one, unlike Google+ which allows you to video chat with up to 10 people at once. Good news is, even if your chat partner doesn't have the proper plug-ins installed, Facebook will automatically detect this, and install the appropriate software instantly. Software engineer Philip Su emphasized how simple it is to make video calls on Facebook, which will make it easy for people of all ages to see friends and family face to face. Video calling is rolling out today.
Learn more about group chat and the new chat design after the break.
Group Chat
Pretty self-explanatory, group chat will allow users to chat with a number of other members in private. You can easily add friends to group chat, and if invited chatters aren't online, they'll get a transcript of conversations when they sign on. This feature will start rolling out today.
New Design
Perfect for those with wider screen sizes, the new chat design will let you see a list of people who are online and available for chatting in a sidebar. Looking a little like your regular iChat list, this list won't appear in smaller, more cramped screens; Facebook can detect screen sizes and adjust accordingly.