Facebook Breakup Chart
Facebook Data Shows Most Breakups Happen in Spring, Winter
If your current relationship feels like it's on the rocks, take comfort in the fact that you may have a few more weeks of coupledom left before one of you is likely to declare your split on Facebook. According to a study performed by Ted talker and designer David McCandless, most breakups happen two weeks before the Christmas holiday and during Spring break.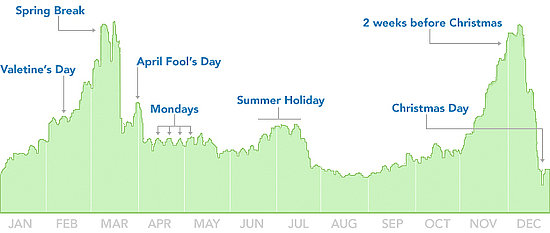 This data was collected by scanning 10,000 Facebook breakup notifications (with the word "break up" or "broken up" included) over the course of a year and shows that Spring cleaning has an alternate meaning for relationships while the Winter blues takes effect in mid-December. Guess that eliminates a few gifts from your shopping list, right?
There's some other interesting facts found in this study. Find out what they are after the jump.
Not only are there two major breakup peaks during the year, but minispikes also happen on Mondays (weekend fights, perhaps?), while there's a breakup plateau happening during Summer season followed by a big drop off. The lowest number of break up notifications? Christmas Day. You wouldn't be so cruel, right?