Facebook Call Button
What Is the "Call" Function Showing Up on Facebook Pages?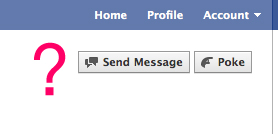 Multiple Facebook users may notice a new feature sneaking its way onto the social network's pages. Some users are reporting a new "call" button displayed when viewing other people's profiles.
So far we've heard no details about this potential new feature. Is it part of the new messaging system Facebook will start rolling out to users soon? Could it be tied to rumors of a Facebook phone? Will Facebook surprise us completely and debut something brand-new — like video chat? Facebook and Skype partnered last Fall . . . is this an extension of that partnership?
In all likelihood, the test feature is some kind of VoIP client that will work similarly to Gmail's calling functionality. Given the state of the Google vs. Facebook race to the top, I'm not surprised that the social network would be releasing such a feature. Especially because Facebook is arguably the fastest way to locate all of your friends and contacts in one place. Quick calling using VoIP is fast and often free or especially affordable.