Facebook F8 2011 Keynote Recap
Facebook's F8 Keynote Recap: Timeline, Open Graph, and More
Mark Zuckerberg took the stage for today's F8 keynote address earlier this morning, and if you missed all the news — which includes a brand-new way to view your profile, and lots of new partnerships — then get caught up here! Check out all the latest news below.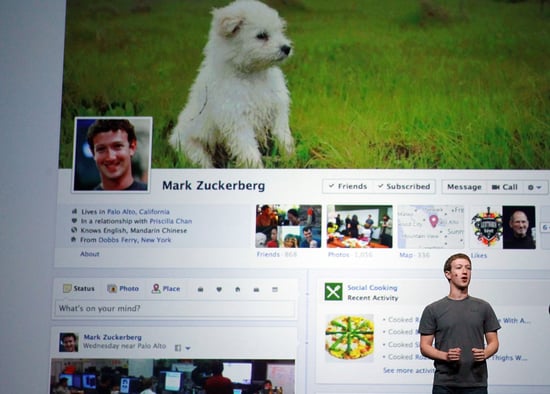 Timeline
A new way to view your profile, Timeline gives you an in-depth look at your history on Facebook. More than just a line of activity (like your current newsfeed), Timeline feels like your own personal webpage. You'll have all of your big events front and center, with your interests, likes, and other activity running in columns down the side of the page. Even better, all activity surrounding one event can be grouped together so you can see it all at once.
Open Graph
Facebook's open graph will allow companies like Spotify, Hulu, Netflix, and many more, to make your entertainment more social. Demos seen today include the ability to listen to songs your friends are listening to in real time thanks to a partnership with Spotify, and similarly, you'll soon be able to watch TV and movies right in Facebook with players being released by Hulu and Netflix.
Apps
Apps will be more social as well. Facebook is getting deeper integration with Nike+, Foodspotting, and lots more in order to share everything you're doing, from anywhere, on any device, whether it's a PC, smartphone, or tablet.