Facebook Hashtags
The Hashtags Have Landed on Facebook!
While some techies cry the hashtag is dead, it seems Facebook believes they're essential for the social part of social networks, as the company began rolling out hashtags to users Wednesday. Use that pound sign just as you would on Twitter, to interact with friends and strangers on trending topics like #ios7 and #gameofthrones, or, you know, life things like #sorryimnotsorry.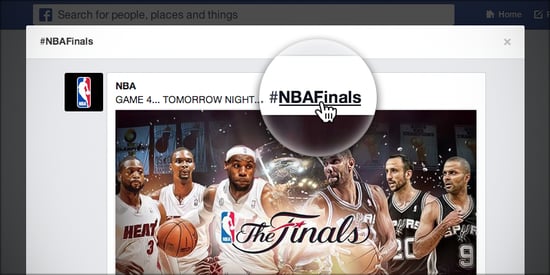 Search for hashtags in the top search bar, where a pop-up of posts with that tag will populate from friends, pages, and any users with public share settings. Join the conversation within the feed, which includes a compose post field with the hashtag auto added. With this initial push, you won't be able to see what's trending across the network, but according to a Facebook spokesperson, it's a feature that will be coming in the next several weeks.
With the continued prevalence of hashtags across most social networks — Twitter, Google+, Instagram, Tumblr, and even Pinterest — it is a bit surprising this change to how Facebookers access information is just coming now, nearly 10 years after the site debuted. After years of keeping the hashtag lifestyle off your Facebook updates, will you start using them in status updates or to follow hot topics?
Get a closer look at a Facebook hashtag search after the break.