This morning, Facebook officially made it to 500 million active users. That's a huge number, and the company is celebrating its latest milestone by launching Facebook Stories — a new app that lets you share your tales about how Facebook has connected you to the people around you, categorized by location and theme.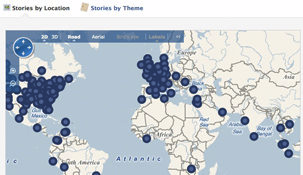 In addition, Facebook employees have posted a gallery of personal messages of thanks on the Facebook Blog along with a video message from CEO Mark Zuckerberg.
For me, Facebook has connected my family in new and awesome ways. Although we don't talk over the phone or see each other in person too often, we're able to keep up with each other's lives by our photos, wall posts, and updates. Who needs a phone when you have a gallery of pics to describe how awesome your weekend was?
And of course, the question begs to be asked — when will it reach 1 billion users? Share your predictions and your own Facebook stories in the comments below!