Facebook Like and Dislike Stamps
Like It/Dislike It Stamps: Love 'Em or Leave 'Em?
After successfully extending its Like button to the entire Internet, Facebook users campaigned for a Dislike button, to no avail. A few imposters showed up, but there is no official Facebook Dislike button, and probably won't be one in the future.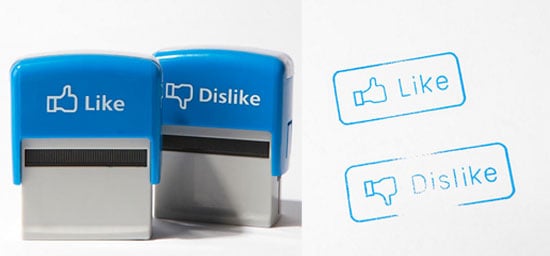 Despite its absence from the pages of Facebook, Dislike is still a valid feeling. Both sentiments are immortalized in a cute pair of stamps from Urban Outfitters. The Like and Dislike Stamps ($14) are simple stamps that share your support (or lack of support) in the offline world. Designed with the iconic thumbs-up that's spread across the Internet, the stamps are the simple push-to-stamp variety and even display their message in Facebook blue.
What do you think?