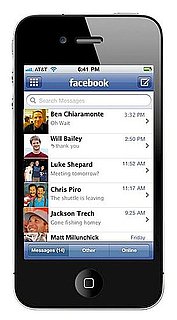 Facebook introduced its brand new "Modern Messaging System" earlier this week, and now security experts are saying it could be a target for spammers. Though according to Facebook, new measures are put into place to protect users, including an aggressive, third-party spam filter that will "supplement our spam detection and protection for messages sent from email addresses off of Facebook."
Find out why these new email addresses could pose a problem when you read more.
Because Facebook is handing out email addresses to users, spammers could just see this as a new way to infiltrate the inboxes of millions of users, even though messages that don't come from your friends or friends-of-friends (depending on your privacy settings) are stored in a separate place. And since these inboxes are connected to Facebook accounts, a large amount of spam could be a deterrent for users to use both the new messaging services and their Facebook pages.
To be fair, since Facebook has yet to roll out its newest feature, its hard to predict the feature's vulnerability. And while the new service does offer a new way for spammers to reach us, it's reassuring to hear that Facebook expects it and has taken measures to prevent annoying or harmful spam from reaching our brand new inboxes.