Facebook Now Supports Larger Photographs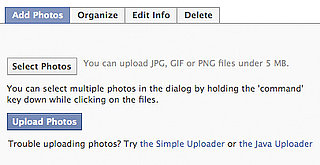 As the largest photo-sharing site on the web, Facebook sees a ton of photos uploaded each day. Originally, the photos had a 604-pixel limit; it was then increased to 720 pixels — an improvement, but not compatible with the detail-catching point and shoots on the market today. Now, Facebook will support photos of up to 2,048 pixels.
Earlier this Summer, Facebook made some changes to its photo album design allowing users to view all photos in a certain album on one page. Now, there are more changes coming: a new lightbox design will allow you to view photos without jumping between pages, and a better way to tag the same friend in multiple photos. Additionally, Facebook has revamped the back end of its photo uploader to be more stable and dependable.