Facebook Places News
Facebook Announces Geo-Location Feature: Facebook Places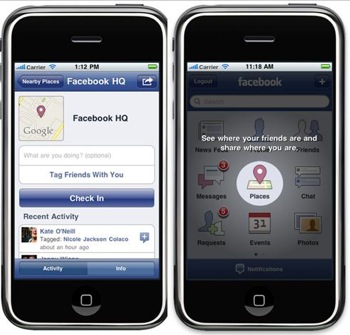 I'm live at Facebook HQ, and this evening, Mark Zuckerberg and team (finally) announced Places, their new geo-location feature. Places will be available on mobile browsers, and a brand new Facebook app which will be made available tomorrow. Places is like a news feed for your locations, also letting you comment and like each place you visit. With Places, you can see your friend's activities and recommendations. Mark Zuckerberg was on hand for the presentation, and described three main reasons to use Facebook Places, which included:
See where your friends are
Discover new places to visit
Share experiences and places with your friends
Want to know how it works? Then just keep reading.
How It Works
After opening up the app, you can add new locations, or check in to existing locations by tapping the Check In button. From there, you'll see a preview of your location, you'll be prompted to hit "Allow," and your check in is then posted to the Place space and on your wall. Photos gets the Places treatment as well, allowing you to tag the people that are in the photo at a specific location, which saves you time since you don't have to go back and do it later. In the "People Here Now" section, you can see who else is in your place so you can meet new people and greet old friends.
Privacy
If you choose to check in, you can keep your location to yourself by clicking "Not Now" instead of "Allow." Your check-ins are defaulted to "Friends Only" (but can change your settings to "Everyone,", or "Friends of Friends"), and you can remove posts and check ins from your wall via your desktop or the mobile app. Additionally, you can disable tagging for yourself if you don't want to be tagged within a friends' check in photo, while you can only tag your friends in Places.
Partners
Gowalla — Allows you to check in via Gowalla, earn your passport stamp, and choose to post your check in to Facebook Places.
Foursquare — Check in using Foursquare, and "Add To," Facebook. Further details about how Foursqare and Facebook will work together are sketchy at this point, but Foursquare says it's "still discovering" what Facebook's new API can do.
Yelp — Check in with Yelp, and post it to Facebook so your friends can see where you're visiting.
Booyah — A brand new app using the Facebook Places API is called Booyah InCrowd. Check in using InCrowd, and post it to your Facebook wall.
Q&A
What privacy controls will be made available for locations? — If you create a place, it will be made available to you and your friends to begin with, but if more people check-in, Facebook will recommend it be made public. You can also remove places by flagging them, and reporting them to Facebook.
Will there be Places on BlackBerry and Android phones? — There are plans to roll out to other devices soon via an app, but you can use the mobile site now.
Can you check in to a viewing event, like a movie or TV show? — No.
What happens to locations that have closed in the real world? — The Places page will still remain in tact.