Facebook Safety Rules For Parents
Tech Your Parents Tech: A Facebook Safety Primer
Visiting your family over the holidays is a joyous occasion . . . even if you do spend half of your time setting up your parents' WiFi, teaching them about Twitter, and schooling them on the ins and outs of Facebook. Fact is, Facebook is filled with hackers just waiting to get their hands on your parent's information in order to spam their friends, or worse — get a hold of their private info to aid in identity theft. Help your parents stay on the safe side by emphasizing these safety and privacy rules on Facebook.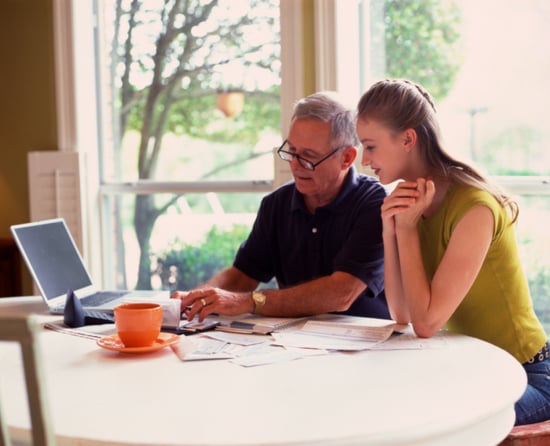 Privacy Controls
Walk your parents through Facebook's new privacy controls so they can keep private information on lockdown, and to learn how they can decide which of their friends, colleagues, and acquaintances sees which posts.
Backing Up Their Data
Just in case their Facebook accounts are compromised, or to keep copies of their many Facebook pics, help your parents figure out how to back up their Facebook data just in case.
Removing Contact Phone Numbers
Did you know that when you connect your Facebook account with mobile Facebook, all of your phone contact phone numbers are automatically imported into your Facebook account? Teach your parents how to clear out those numbers and spread the word so their friends can do the same.
Suspicious Links and Status Updates
You know your friends, and should have an inkling as to what kind of links they share on Facebook. If one of your friends posts a status update that says something along the lines of "OMG This is so amazing! Click here!" or "There's a rumor going around about you. Click here to see what it is," it's probably spam. Additionally, if you see the same message popping up on multiple friends' accounts, do not click it. It could turn your account into a spamming machine.
Change Passwords Often
If your parents have one password for multiple accounts and websites, it's your duty to alert them to the dangers of this practice. Help them create hacker-proof passwords for each of their online accounts so if one site gets hacked, the perpetrators won't be able to then sign into your parents' online banking, credit cards, and email accounts, keeping the possibility of identity theft to a minimum.
What Not to Post
Even though your parents enjoy sharing information about their daily lives with their friends, there are some things you shouldn't post on Facebook. Most importantly, a public status update explaining that they're out of town for an extended period of time. Sharing these deets with close friends only is fine, but announcing to the world that their house will be empty for the next week is a no-no.