Facebook Testing New Mentions Feature
Is This Facebook's Attempt to Streamline Its News Feed?
It appears that the font size change isn't the only update we can expect from the Facebook news feed. Forbes uncovered a new "Mentions" feature within the news feed, and Facebook later confirmed that they were testing the function with a select group of users. Mentions looks for certain words or phrases within your friends' updates and posts, and then groups them together under one heading.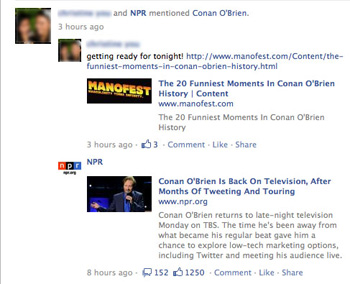 It also associates certain words or phrases — like a celebrity's name —with their corresponding Facebook pages or Wikipedia entries.
No word yet on when (or if) all users can expect this function, but it does seem like it will do a serious job of cleaning up your news feed, similar to how new friend announcements, Likes, and photo comments are grouped within the feed. Plus, it's a great way to see what your friends are talking about.