Facebook Year in Review 2013
Facebook's Most Buzzed-About Topics Around the World
Facebook launched its 2013 Year in Review data this week which revealed that, despite all differences, cybercitizens around the world are using social media to discuss sports, weather, and politics. As this list goes to show, Facebook-ers didn't just compose status updates about themselves this year. In the US, the Super Bowl (of which Beyoncé was the clear winner) and the government shutdown, which left Congress paralyzed for over two weeks, were the most shared topics of 2013.
Take a trip around the world with this international retrospective of the most buzzed about people, events, and movements of the year, then see your personal journey at facebook.com/yearinreview.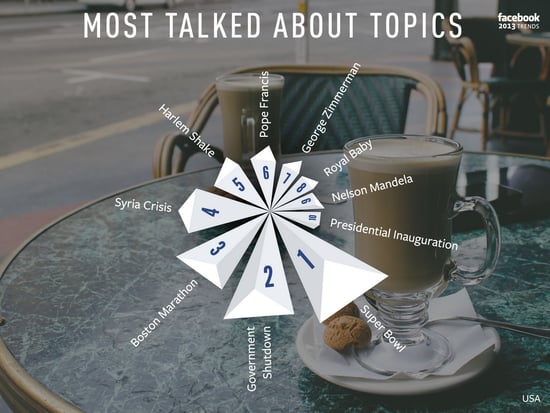 Worldwide
In March, Archbishop of Buenos Aires Jorge Mario Bergoglio became Pope Francis, the leader of the Catholic Church. He is the first pope from Latin America, and his tenure has already made an impact on followers with a message of tolerance to the gay community and his frequent social media outreach to a younger generation.
Pope Francis
Election
Royal Baby
Typhoon
Harlem Shake
Flood
Boston Marathon
Tour de France
Nelson Mandela
Brazil
The 2013 FIFA Confederations Cup in Brazil set the stage for massive protests in Rio de Janeiro. The antigovernment demonstrators called for better public services, the resignation of Rio de Janeiro governor Sergio Cabral, and many other issues. Social media was clearly a major player during the protests, as "manifestação," which means "demonstration" in Portuguese, was the most discussed topic this year.
Manifestação
Carnaval
Neymar
Rock in Rio
Papa Francisco
United Kingdom
Scottish tennis player Andy Murray finally took the top prize in his home country, winning Wimbledon 2013 after an intense match with world No. 2 Novak Djokovic. Andy wasn't the only one making headlines after his historic win — girlfriend Kim Sears also made headlines after her tennis pro beau ran into the stands and give her a kiss after securing the championship.
Andy Murray
Margaret Thatcher
UEFA Champions League Final
Prince George
Sir Alex Ferguson
Germany
Munich-based soccer club FC Bayern won its fifth European Cup title, which was the icing the cake for a record-breaking year for the team. New coach Pep Guardiola took the reins in July and oversaw the acquisition of soccer star Mesut Özil, who cost the club 50 million euros.
FC Bayern
Hochwasser
Borussia Dortmund (BVB)
Bundestagswahl
Champions League Finale
Hong Kong
Hong Kong was spared from Typhoon Usagi, which nearly struck the region's northern border. Floods, strong winds, and damaged homes disfigured many cities in Southern China.
Typhoon
Cy Leung
Paul Chan
Triumph in the Skies
Raymond Chan
India
The chief minister of Gujarat, a state in western India, will be a candidate for prime minister during the 2014 general elections. Narendra Modi, or "NaMo NaMo" as he is called colloquially, took a page from Barack Obama's campaign by engaging young voters on social media.
Narendra Modi
Sachin Tendulkar
iPhone 5S
Raghuram Rajan
Mangalyaan