Facts About Marissa Mayer, Yahoo CEO
What to Know About Marissa Mayer, Yahoo's Next CEO
Marissa Mayer, a Google leader for 13 years, will be Yahoo's next CEO — joining the small group of female chiefs in Silicon Valley. As the company's 20th employee, Marissa was Google's first female engineer. She was responsible for the clean look of Google's popular products: the simple white search homepage, Gmail, Google News, and Google Images.
A leader for women in the technology industry, Marissa told The New York Times that Yahoo was "one of the best brands of the Internet." Even more exciting? Marissa and husband Zachary Bogue are expecting their first child — she's currently six months pregnant with a baby boy!
Not familiar with the newly appointed CEO? Learn more about the woman who'll be leading an Internet legend below: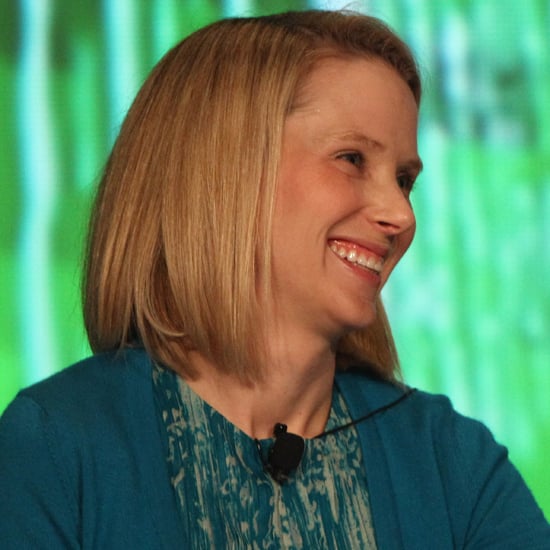 She bought her first computer in college, where she was studying to be a pediatric neurosurgeon, then switched to a unique mix of courses only offered at Stanford: symbolic systems — a blend of psychology, linguistics, philosophy, and computer science.
Following her 14 job offers after graduation, Marissa created a matrix, ranking each position on salary, location, chance of success, lifestyle, career trajectory, and happiness. She then recruited an economist to help her analyze her data and spent hours charting pros and cons with her friend before deciding which offer to accept.
See the rest of the list — including some sound career advice for women — after the jump.
She figures that only 15 to 17 percent of Silicon Valley programmers are women, and she blames this low number on the tech industry's bad image and misrepresented idea of what a "geek" really is: "The stereotype of that very complete and rigid picture of what being a computer scientist means really hurts people's understanding and ability to identify with the role and say, 'Yes, this is something I can be in and want to be in.'"
She has some smart advice for women who are looking for careers in the tech industry: "Work with the smartest people you can find, do something you're not ready to do, find an environment in which you're very comfortable so you can find your voice, and work for someone who believes in you — because when they believe in you, they'll invest in you."
—Additional reporting by Laura Marie Given