Facts About Mars From NASA Rovers
5 Things We've Learned About Mars From the Exploration Rovers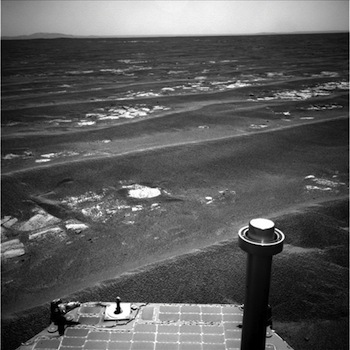 It's been seven years since the first exploration rover touched down on the Martian landscape, and they have been broadcasting photos and information from the red planet ever since, giving us a new look at what lies on the surface. Find out a little more of what we've learned about Mars since the explorer rovers, Spirit and Opportunity, have been on the job.
There's water in them 'thar hills — Well, almost. The Spirit rover's right front wheel broke a few years into the project, which may have been devastating to the mission. The team learned how to drive the rover backwards, which led them to finding evidence of water thanks to salt deposits just below the surface.
It could have harbored life at one point — The Marian soil consists of magnesium, sodium, potassium and chloride, which are also found in gardens here on Earth.
Martian Winters are harsh — Mars has two permanent polar ice caps that consist of ice. During a pole's Winter (which lasts about twice as long as Earth's), when they are subjected to continuous darkness, the temperatures get so cold that a transparent one-meter thick layer of dry ice form above ground. The Spirit rover survived three of these Winters!
See a few more fun facts about Mars after the break.
Mars has big dust storms — Spirit captured images of a Martian dust devil, which are similar to those found here on Earth, but come in at about 50 times as wide and 10 times as high.
Mars is volcanic — Rocks on Mars could be the by-product of volcanic lava flows.