Faster Reading Speeds on Printed Paper Than Ereaders
Point For Print: Reading on Paper Is Faster Than an Ereader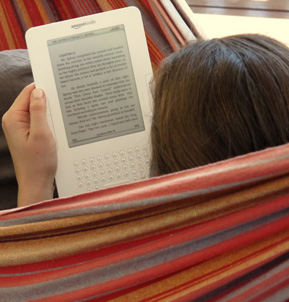 While ereaders like the Kindle and the iPad make it quick and easy to read any book instantly, a new study shows that reading on paper is faster than reading on a screen. The study followed 24 users reading on a Kindle, iPad, a computer monitor, and traditional paper. The results showed the participants' speed while reading on a screen was up to 10.7 percent slower than reading a printed book. However, the study also showed that participants preferred reading on an ereader to reading a traditional book.
On which device do people read the fastest? Find out after the break.
Readers were faster on the iPad (using the iBooks app) than the Kindle, but the study's author says the difference is not statistically significant enough to choose one over the other. The study also asked participants to rate each experience; the iPad, Kindle, and printed book scored nearly equally, while the computer screen came in a distant fourth place in preference. Personally, while I adore my Kindle, I'm still partial to reading a printed book — between the feel of a book in my hands and the often beautiful cover art, I don't think my ereader will ever completely replace a physical book — and it seems that the participants in this study agree, too.
Source: Flickr User TheCreativePenn