Felicia Day Interview About The Guild
Felicia Day Talks The Guild, iPhone Gaming, and Making It as a Geek Girl
Walk by actress Felicia Day at Comic-Con and you're sure to see the geek culture icon surrounded by fans — maybe even one dressed as Codex, her character on the long-running web series The Guild. After making her name on Buffy the Vampire Slayer and Dr. Horrible's Sing-Along Blog, Felicia launched the series in 2007 as an ode to her love of online role-playing games. The show returns for its sixth season today on the Geek & Sundry YouTube channel.
I caught up with the It girl of geek culture to talk the latest on The Guild, the rise of mobile gaming, and what it means to be a geek girl.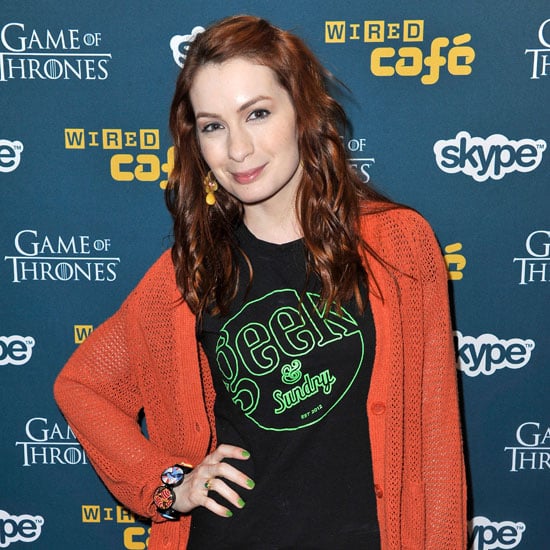 What's new in season six of The Guild?
I'm really excited about The Guild this season as far as Codex goes, because she starts to work at the game itself. And for those new to the show, if you start from season one, I know sometimes it can seem a little too "inside gamer-y" for people; so, season after season we've been broadening our scope. Geek culture has been broadening over the years, and people who aren't necessarily MMO [massively multiplayer online role-playing games] players will really love this season.
Have you seen the online gaming world The Guild is based on change with the growth of social-media-based games?
I definitely think gaming is much more mainstream now because of social games as well as mobile games. People are casually playing a lot more games, and that's probably echoing up the gaming food chain. There are still your triple A titles that took five years of work, but a lot more people are considering gaming just a part of their lives. As the seasons of The Guild have gone on, the show has grown past just being about MMO players playing with each other online. The characters have full lives, and in season six, we see Codex go into the actual game to have a job for the first time; so it's about expanding our world, which is an interesting parallel with gaming, as well.
Keep reading for Felicia's all-time favorite video games and her advice for geek women after the jump.
Do you have an all-time favorite gaming character or game?
My all-time favorite games are very diverse; they're the ones that I can insert myself into as a role player. As long as I can customize my avatar and name it what I want, those are the games that I love. I love Mass Effect 2; I love all the BioWare games because of the storytelling and the immersive quality of it where I feel like my avatar is living a really interesting life and having interesting relationships with other characters. My heart is always going to be in the Ultima games. The great thing about Ultima games is that in the beginning, you can choose your personality by virtue tests.
What's your favorite iPhone game?
Because of TableTop, one of the shows we have on Geek & Sundry, I have been learning a lot about board games the last year, two of which have iPhone apps that I absolutely love. There's one called Ticket to Ride, a train game. You collect color trains and make routes out of those trains; it's simple, really fun, and good for just sitting around.
I also love this game called Elder Signs, which is a dice game based on a Cthulhu-kind of a horror world. Basically you roll the dice over and over again with different powers to be able to unlock these achievements where you beat the monsters.
You're looked up to by other women in the geek community. What sort of advice would you give to women who want to make gaming a career like you or just become more involved in this lifestyle that is often dominated by men?
Personally, after doing this for now over five years, I think the number one thing that I'm most proud of with the show is that I created a character as a response to my opportunities in Hollywood. Meaning, I didn't see a role that I was going to walk into and really own; it was always the "quirky sidekick friend." Which is why I created Codex: there was a truth to that character that I knew; I knew I would play her well, I knew her problems were things I could relate to, and at the same time I knew there were women who gamed and didn't have any kind of role models or even characters that really represented them the way I knew they existed.
That was one of the reasons why half my cast is women. I have three very diverse women characters who game in The Guild, and we don't draw attention to it per se. As girl gamers, they don't wear that on their sleeves; they just exist as themselves and happen to be joined together by gaming; which I think is important as far as just changing perception. People get very defensive when you start calling attention to yourself as being disadvantaged or something, and knowing who you are is really the strongest thing you can do, even outside your gender.
When I first started The Guild, I had never written anything, never made a video before, and I found myself in doing something that scared me. So my advice to people is that you have to find yourself. . . . In the gaming industry, there are so many opportunities no matter what you want to do — as a producer, writer, on the tech side, or on the marketing side — there are so many opportunities because really it's an industry that has started eclipsing Hollywood. The more women that get into this world as a career, the better to make the whole issue of "guy dominated gaming" a non-issue.
Beyond your career, as a "geek girl" did you ever find it hard to be taken seriously at times?
Like I said, for me, the best way to have operated all these years is to just say "I exist and I'm a gamer," versus having people look at a girl gamer as something different than a guy gamer. I think that's kind of representative of the fact that women in geek culture have emerged as such a strong voice. We're going through a growing pain in a way, and the great thing about the genre and geekdom is that there is inherently a very interesting equality in the kind of roles we look up to and the things we celebrate in comics and sci-fi or fantasy literature; there are so many strong women characters, unlike more mainstream media.
Since Codex is known for her costumes, do you have big Halloween costume plans?
I am not a good planner when it comes to things like that. But the great thing is that we do have a lot of costumes from all of our productions in our storage unit, so my plan is to go there the day before Halloween and pick something out. I'll probably cobble something together, so I'll be a Zombie Biergarten Waitress, or something.
Ready for more Felicia? Watch the season six premiere of The Guild below!