Felicia Day Interview on GeekSugar
Geeks We Love: Felicia Day of The Guild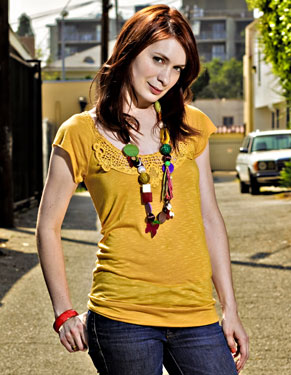 We've loved Felicia Day even before she made us LOL during her first The Guild music video last year. Not to mention the fact that Felicia has starred and guest-starred in several geek-worshipped shows like Dr. Horrible's Sing Along Blog, Buffy the Vampire Slayer, and of course the online sensation The Guild (Season Three is available for download on iTunes now, and DVD on Feb. 15 for those of you who want to relive the magic), which makes her one of the more recognizable figures in geek culture today.
Felicia is not only a fabulous actress, but she's also an inspiration for geek girls everywhere — talented, beautiful, and knows her way around an MMO. Truth be told, we've got a bit of a girl crush.
Why do you think online gaming (and World of Warcraft in particular) is so close to people's hearts and so widely accepted among such a variety of people?
It's hard to create a community in real life now, most of us don't even know our neighbors, our lives are so spread out between home and friends and work. Online gaming allows you to create a home and community of sorts, as well as provides engaging entertainment. I personally would rather be solving puzzles and finishing quests than passively absorbing a TV show or movie.
Do you think gaming and technology brings people closer together, or creates more of a distraction in relationships?
It depends on the person and how you use it. I certainly have been annoyed by people fiddling with their phones while I'm physically sitting across from them, but at the same time I keep in touch with my brother much better over the Internet than when we ever lived in the same city. I think the thing to be careful of is that technology or gaming doesn't become exclusionary to the people physically in your life.
Find out what Felicia thinks about geeky pick-up lines, her favorite trends, and why she won't be eating any prix fixe dinners with her boyfriend this Valentine's Day when you
.
What are some of your favorite/least favorite tech and/or gaming trends?
I'm very excited about 3-D entering into gaming. And technology like NATAL, where you're wholly and "physically" present in a virtual world, is so exciting, I can't wait to see what people develop for it. I also like the fact that casual gaming is experiencing a resurgence, I think that it will get a lot more people playing. I'm not crazy about the whole "watch this cut scene of stiff puppets with bad acting," but I think that is indicative of a larger trend that will be melding games and movies more and more. For that I'm excited.
Have you ever been served a geeky pick-up line? What are some of your favorites?
I don't remember a lot of pick up lines, I do get a lot of references to my hair and skin color, and someone offered to be my "WOW husband" over Twitter the other day. I guess for in-game only? Yeah, that was odd.
Are there any gadgets that you just can't live without?
I love my Kindle. I'm a book lover and I didn't think I'd love it, but I eat up books on the thing. The convenience of ordering a book and have it downloaded instantly is fantastic. I really like the little chatpad I have for my Xbox controller because I can't type on it otherwise, and I love my DS for plane trips. Oh, and my iPhone for the Yelp App, so I never lack for a good cup of coffee in a strange city.
Do you ever Google yourself to keep up on what fans are saying?
I don't think there's a way for me to not hear what fans are saying, between Twitter and Facebook and Google Alerts etc; etc;  It definitely keeps you humble, but it also keeps me going because I hear first-hand that people enjoy what I do. Or not. That's the great thing about the Internet, everyone has an opinion and a venue to express it.
What will you be doing this Valentine's Day?
I will be doing a fan convention in Maryland. My boyfriend and I actually don't celebrate it, it's kind of a manufactured holiday to sell greeting cards and bad chocolates, right? And I think holiday prix fixe menus are a scam. As you can see I'm a romantic, haha.
Don't miss a thing — check out the rest of our Geeks We Love coverage all week!
Source: The Bui Brothers