Fergie's Lego Dress at 2011 Kids' Choice Awards
Lego Fashion: Love It or Leave It?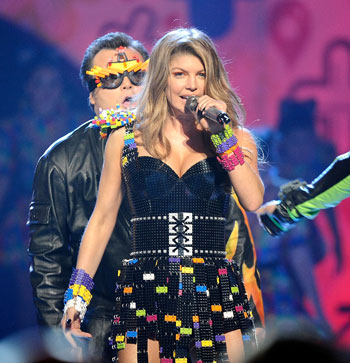 We've seen Legos turned into everything from zoo animals to royalty, and at last weekend's Kids' Choice Awards, Fergie and the Black Eyed Peas crew donned futuristic and fun Lego-style fashions. The Black Eyed Peas are known to show off their geek cred on stage, so I wasn't surprised to see their latest geek-inspired creations.
But there's more where that came from: British artist Finn Stone recently crafted a pair of Lego stilettos that are priced at around $2,600. Could there be more Lego fashion on the way? What do you think of the trend?