Fflick Uses Twitter to Search Movie Mentions
Use Fflick to See What Movies Your Friends Are Talking About
Trying to figure out which movie to go see tonight but not sure whose opinion to trust? Stuck at home with only your streaming Netflix to keep you company but not sure which movie you're in the mood for?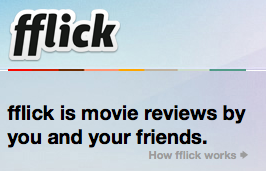 Check out Fflick, a site that works with Twitter to show you which movies your friends are tweeting about — good or bad. To use the site, just sign in using your Twitter username (no password required). Fflick will compile a list of talked-about movies, including your friends' full tweets about each one.
Find out more about how Fflick works after the break.
Clicking on any movie logo will display all of the tweets posted about that particular film by all Twitter users, not just your friends. Other cool features include the ability to search by movie title, a graph ranking titles by the percentage of users who tweeted favorably about them (currently in the lead, Despicable Me with a 91% favorable rating from users), and a list of films scheduled to open soon (so you can read all about the anticipation surrounding their release). The service is free and easy to use, and the design is bright, cheerful, and colorful — a great experience all around! Fflick searches archived tweets too, so feel free to call out a friend for her breakup-fueled rom-com fest six months ago or her late-night tweet about watching Harry Potter on TV again . . . for the fifth time.