Find a Creative URL With Domainr
Use Domainr to Find Your Wedding Website URL
If you decide to create a wedding website, you might be satisfied with the customized URL given to you by one of the many sites for creating your own wedding webpage.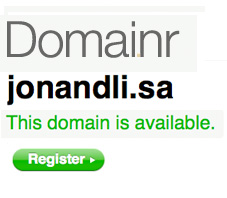 Or, you may prefer a more customized URL, something simple like YOURNAMEandHISNAME.com. But if you have fairly common names, there's a pretty good chance that another couple had the same idea and snatched up that URL before you had a chance to. Enter Domainr, a site that allows you to enter a URL or partial URL and not only lets you know if that URL is taken, but offers creative alternatives taking advantage of all available domains. See how this helpful site works after the break.
To use Domainr, just visit the site and type in the words you'd like in your domain. For example, if you're Lisa and marrying Jon, typing in "jonandlisa" reveals that jonandlisa.com is already taken, as is jonandlisa.org. But jonandli.sa is available — and creative! Domainr also offers one-click access to purchase any domain you find, so it's quick and easy. It can be used to find any domain, obviously, but this wedding season it's especially appropriate for finding your perfect domain.