Find Jay-Z's Autobiography With Bing
Bing's Newest Friend: Jay-Z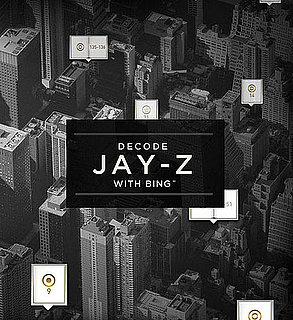 I'd argue that Google knocked it out of the park with its Arcade Fire Chrome Experiment, but now Bing is hoping to use a big-time musician for a successful marketing push. Jay-Z is releasing his 300-page autobiography a page at a time in cities across the country, and fans can locate the pages by logging onto bing.com/Jay-Z, which uses Bing Maps to guide players to the pages.
The project also takes advantage of the new Bing-Facebook partnership as Facebook is used to authenticate users who sign up, and clues to the pages' locations will be posted on Bing's Facebook page. According to Bing, the campaign is aimed at growing the Bing audience, and apparently Jay-Z fans (not just his 4 million social networking connections) have "heavy search tendencies." Who knew?
The promotion (scavenger hunt?) lasts until Nov. 20; 200 registered winners will receive prizes for finding pages.