First Female in Space
A Giant Space Suit in Honor of the First Female Astronaut
Every remarkable female astronaut (honestly, is there any other kind?) deserves a giant replica of her space suit made in her honor. New York-based artists Joanna Malinowska and Christian Tomaszewski are setting a precedent for tributes to space-faring humans with their installation Mother Earth Sister Moon, which manifests itself around a huge inflated Soviet cosmonaut suit based on the real one worn by Valentina Tereshkova, the first woman in space.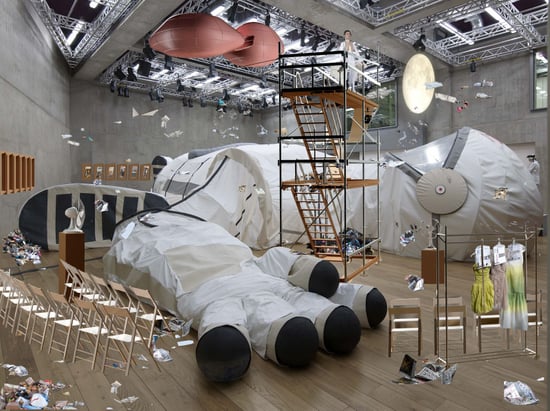 Valentina's inflated space suit is home to fashion shows, screenings, art showcases, and more. Visitors are allowed to walk in and out of the galactic installation, which realizes a vision of the future as seen by Communist regimes, by blending architecture, fashion, music, and design with Soviet sci-fi film and literature.
See the colossal room-sized cosmonaut suit for yourself at the Zacheta National Gallery of Art in Warsaw, Poland, until May 19, and preview the exhibit's fashion and design display after the break.