The First MP3 Player
Geek We Love: The Father of the MP3 Player Market
Although Kane Kramer developed the first MP3 player in the 1970s, it wasn't until 20 years later that MP3 players hit the consumer market. For that we have Nathan Schulhof to thank. In the early 1990s, he envisioned a "portable device [that] would allow the selection, retrieval, storage, and playback of audio content delivered to the device via the Internet."
The founder and CEO of Audio Highway, Schulhof has been dubbed the "father of the MP3 player industry" for creating, patenting, and introducing the Audio Highway Listen Up MP3 Player in 1996. The first of its kind to be introduced to the public, the Listen Up Player had a retail value of $299 and held up to 60 minutes of digital audio files. To give you some perspective, today an iPod Classic ($250) stores up to 40,000 songs.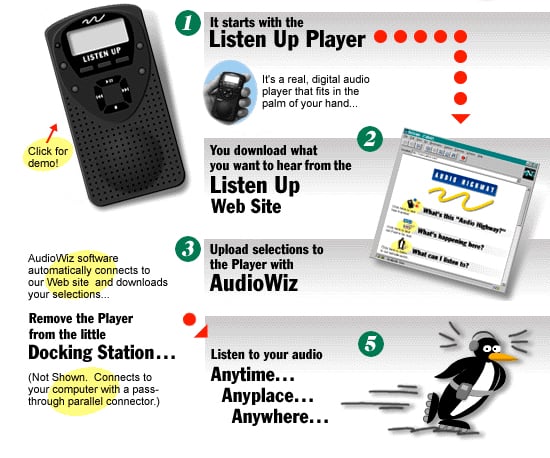 Even though the player was not mass-produced (only 25 devices were made), it still received a lot of buzz and recognition in the tech world. The player won an Innovations Award at the Consumer Electronics Show in 1997 as well as a People's Choice Award at the second annual Internet Showcase Conference in 1998.
See how Schulhof feels about Apple's success.
Beyond the MP3 player, Schulhof created an online audio store called Audio Highway. Users could download music from the store and upload it to a software program called AudioWizz, a precursor to iTunes, which would transfer the MP3 files to the portable player.
However, this wasn't the "first" major idea that Schulhof played a key role in developing. In the 1970s, he worked on the software that became the first and best-selling word processor for the Apple II computer. And Schulhof doesn't feel bitter about the success of the iPod and iTunes. In 2007, he told Valley Life magazine, "When I see kids using the iPod, it makes me feel really good. I think that I've made a difference . . . The MP3 player is the biggest [highlight of my career]. I'm so proud of that. I didn't make it popular. Apple did a wonderful job. Apple was the first one that really got it right. With iTunes, they give the whole complete package and really make it easy."