All engines running are a go . . . we have liftoff on Vine! NASA astronaut Reid Wiseman, currently aboard the International Space Station, beamed the first Vine from outer space, a sped-up 92-minute time-lapse of the never-setting sun from the ISS. Reid's awe-inspiring six-second clip is almost as good as Ryan Gosling refusing to eat cereal. Almost.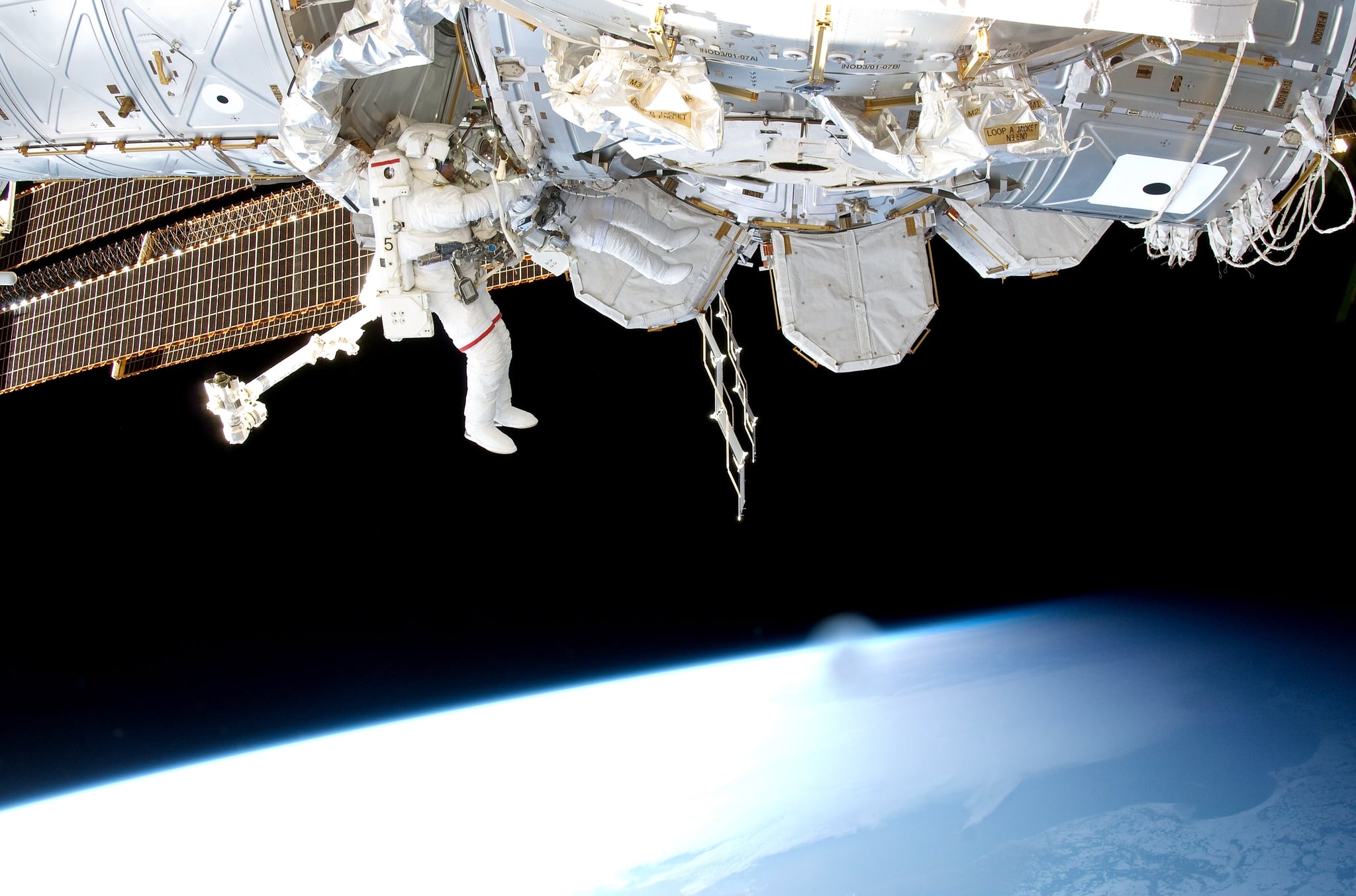 Source: Getty / NASA
We've come to terms with the fact that astronauts do badass things that we'll never get to do. Like hang out in zero gravity, drink floating water blobs, and perform "Space Oddity" over 200 miles above our planet. Truth be told, astronauts have been and will forever be cooler than us Earth-bound humans, which is why they will always auto-win at social media. Don't believe us? Here's how and why these travelers of the cosmos are the Internet's finest communicators.
Exhibit A: Vine
I could watch this sun never set all. day. long.
Exhibit B: Twitter
Most first tweets are unfortunate, unless, of course, you're floating in space. Mission specialist Mike Massimino sent this note to the Johnson Space Center, which made it the first (sort of) tweet from space. SNL even spoofed it: "In 40 years we went from 'one giant leap for mankind' to 'Launch was awesome!,'" solidifying the tweet's place in history.
From orbit: Launch was awesome!! I am feeling great, working hard, & enjoying the magnificent views, the adventure of a lifetime has begun!

— Mike Massimino (@Astro_Mike) May 12, 2009
Exhibit C: Pinterest
NASA astronaut Karen Nyberg, who, you know, just has a Ph.D. in mechanical engineering and lived underwater for seven days, has the greatest Pinterest account in the galaxy. Science in Space shows off what scientists actually do up there, like harvesting plants and freezing their own saliva.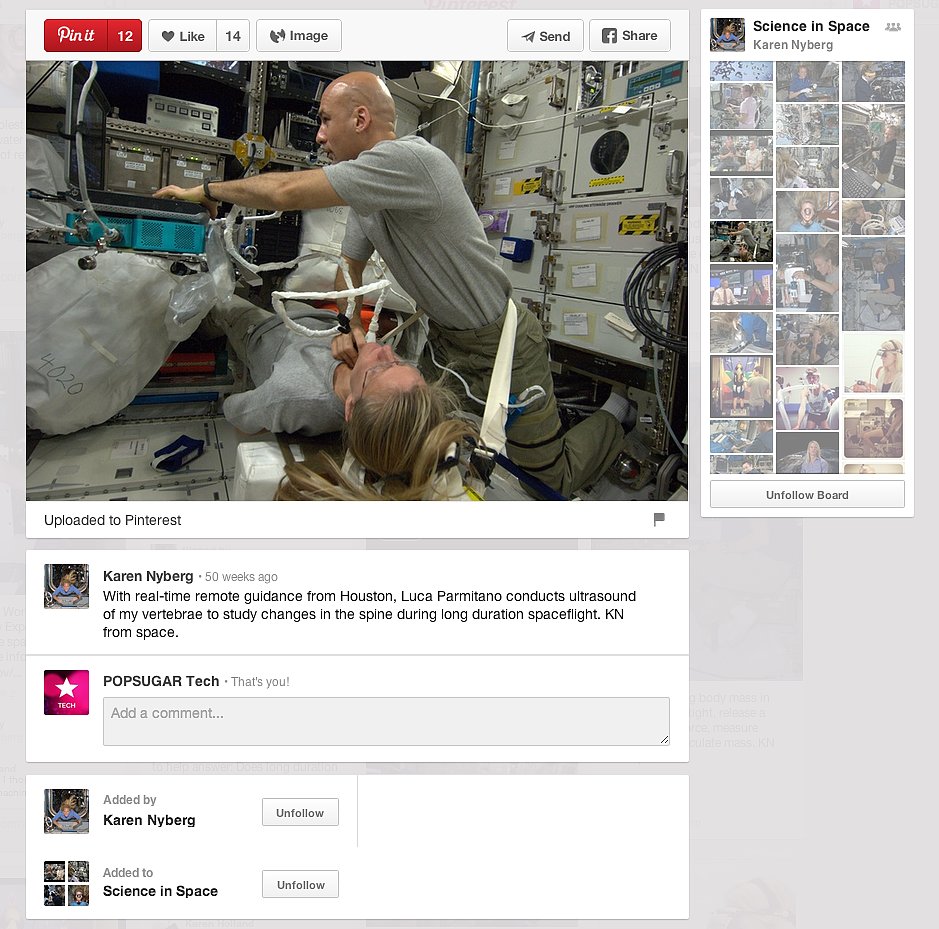 Exhibit D: Tumblr
Tumblr was just one of many ways Chris Hadfield communicated with earthlings. He tumbled, tweeted, live streamed lessons, and serenaded us from space.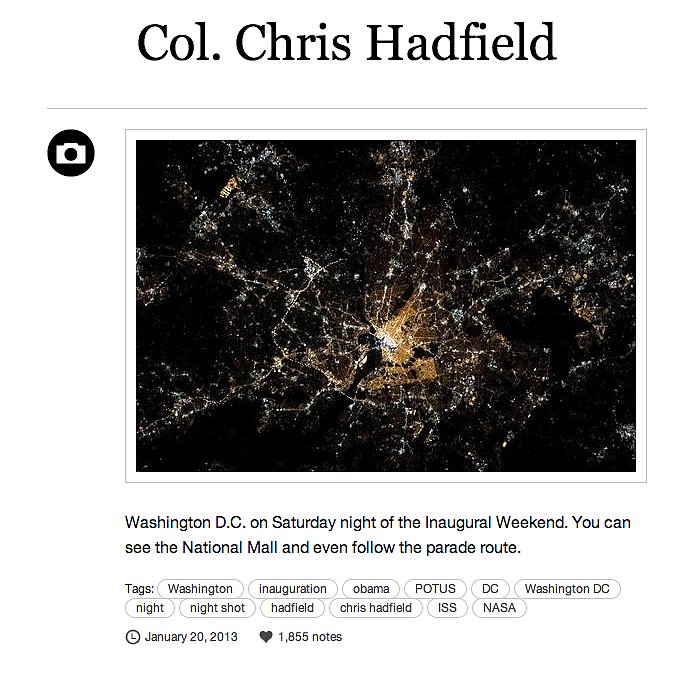 Exhibit E: YouTube
It doesn't get more meta than this. Japanese flight engineer Satoshi Furukawa assembled 162 Lego pieces in a plastic bag and released the mini ISS into "orbit."