Fitness Tips From Captain Picard
Work Out Like a Captain: Tips For Staying Fit on Planet Earth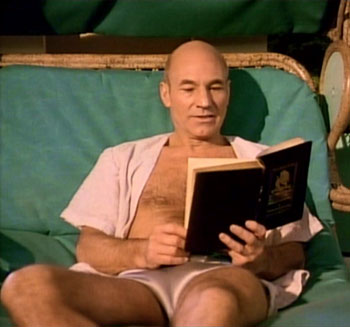 Just because you live in space, doesn't mean you can't stay fit. Captain Picard is known throughout the Starfleet for his excellent health (despite some cardiac complications after a near-fatal stabbing through the heart) and fit physique, and he keeps fit by playing sports of all kinds. Check out some of his favorite activities on board the Enterprise and on solid ground. Remember to take a tip from the captain and relax every once in awhile — an extended holiday is good for your health!
Running
Captain Picard is in excellent shape due to his love of running. He is the first freshman to win the Starfleet Academy Marathon, a 24-mile race on the planet Dranula II. If you're not at your tip-top shape just yet, FitSugar can give you plenty of tips on how to keep common running injuries at bay.
Racquetball
Captain Picard enjoys sports on the Enterprise, thanks to the holodeck, one of his favorites being racquetball. Racquetball provides an amazing workout (blasting over 200 calories in 30 minutes) and tests your hand-eye coordination with the quick moving target.
See the rest after the break.
Fencing
Another holodeck sports favorite is fencing. While you may think that this demanding sport is for dudes in tights, it gives your quads, calves, and arms quite a workout, thanks to all the hopping around, lunging, and wielding of a sword.
Wrestling
Wrestling is an intense sport and if you're not ready to perform reverse body lifts like Picard does during a famous wrestling match against a Ligonian, then try heart-pumping martial arts like Krav Maga instead.


Source