FollowUpThen Email Reminders
Geek Tip: Send Yourself an Email Reminder With FollowUpThen
When you have a million things to do at the office, it's easy to forget things you need to remember. Like that proposal you were supposed to review and send back by today. Whoops! You could add a reminder on your calendar, but it's oh so easy to just "dismiss" those Entourage pop-ups, isn't it? Instead, send yourself a follow-up reminder with FollowUpThen. This easy-to-use tool lets you send yourself and/or someone else a follow-up reminder via email just by adding a deadline (i.e; 1day) along with @followupthen.com in the CC or BCC field of your email. FollowUpThen will shoot back a reminder email on the day you specified, making sure you won't forget that important task.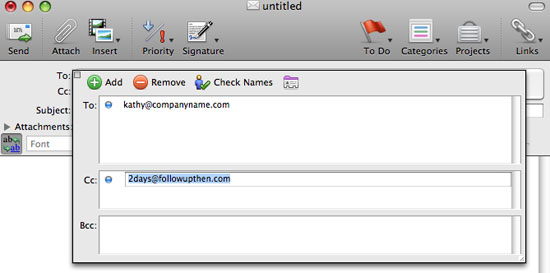 To hear more about how FollowUpThen works, just
.
Say you're working with a partner on a project for work. You want to send out your notes and follow up with them in a few days to make sure they looked them over. Adding FollowUpThen in the CC field will send you and your recipient a reminder, while BCC'ing will send you alone a follow-up reminder to get back to them on the project. It's easy to use, and it's free!