Food Photography Tips
Take Great Food Photos: Tips For Success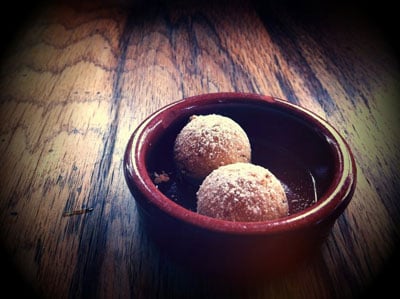 It's pretty common these days to find people whipping out their cameras after a plate of yummy-looking food or a specialty cocktail has been placed in front of them at home, at a restaurant, or even at the ballpark. If you're a budding food photographer — or one that just likes to upload pics to our Cool Capture challenge or YumSugar's Savory Sights group — then take note of these tips for on-the-go foodie photography success.
Try for natural light — A window seat is best for capturing as much detail as you can, but under a light can work in a pinch.
Use an app — If you can't change your lighting situations or want to get creative with filters (as seen here) then use an iPhone app like Instagram (free) or Camera+ ($2) that has some really great instant editing options to highlight the dark areas on your plate and filters that give your pics an artsy feel.
Avoid using your flash — Not only is using a bright flash annoying to your fellow restaurant goers, but it can totally blow out your pic with too much light.
Find one detail worth highlighting — What's so great about your plate of poached eggs? Does your ramekin of souffle have a perfect dusting of powdered cocoa on top? Pick one detail to highlight in your photo to maximize the results.
Learn about a few more tips after the break.
Use macro settings — If you're a serious food photographer and have an SLR or digital camera handy whenever you eat, use your camera's macro settings to really get up close and personal with your food. This setting will also help achieve the coveted background blur on your image.
The rule of thirds — Though it's more of a suggestion than a hard-and-fast rule, the rule of thirds recommends keeping the focal point of your image in the left, right, top of bottom third of your viewfinder will create more of a visual impact.
Try different angles — Without taking forever to dive into your delicious meal, try taking shots from different angles — down low, from the side, and up close. Don't get stuck in a rut by just shooting your meals from the bird's-eye view.
Have any food photography suggestions of your own? Leave them in the comments!