Food Photography | Tips
In Focus: Photographer Erin Kunkel on Shooting Stories, Not Subjects
It's easy to understand how spending time on picturesque farms in Europe could convince a painter to pick up a camera and start taking pictures. That's exactly how then-art school student Erin Kunkel, whose images have appeared in Conde Nast Traveler, Food & Wine, and many cookbooks, was first bit by the photography bug.
The San Francisco-based photographer's deep appreciation for food and where it comes from is evident in her vivid images of fresh produce, harvesting tools, and vineyards. The pictures are so warm and radiant that it's almost like you can taste and smell the fruits and vegetables. In fact, at Canon's Pixma Pro "City Senses" event in San Francisco, we got to experience an interactive exhibit featuring Erin's work, along with the flavors, smells, and sounds that inspired the photos.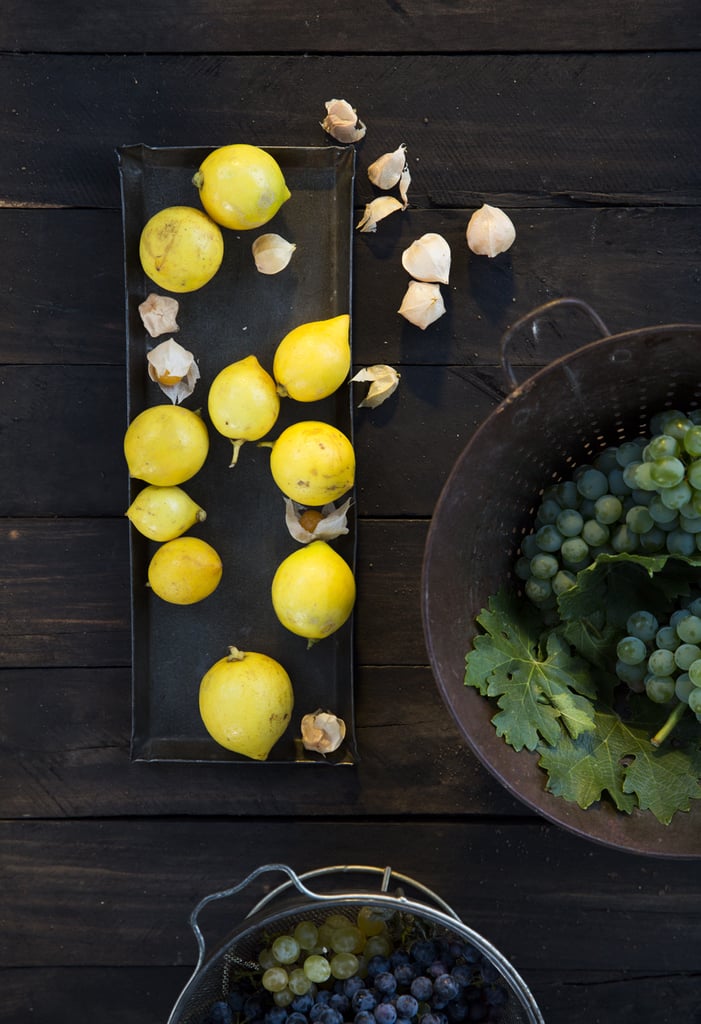 After getting to see her images up close, we spoke with Erin to geek out over camera gear and discuss how she uses imagery to tell stories.
Favorite Subjects
"I'd say farmers and chefs. I love working with real people and telling a story about what they're doing. I also shot an amazing designer today . . . working with artists and creative people is always fun."
"I went to art school and, stupidly, didn't take a single photography class. I studied sustainable agriculture and worked on farms in Europe for a couple of years. While I was there, I just started shooting because I was in such beautiful places. When I get to work with farmers and chefs, it really ties those things together. I really care about food and where it comes from, and then documenting that through photography is really fun."
Favorite Location
"Probably Big Sur is my favorite. It's amazingly beautiful, and the weather is crazy. You just don't know what you're going to get, and it's kind of a magical amazing place."
First Camera
"I had a Hasselblad, and I have to admit, I didn't really know how to use it. When I was in Europe, I bought a really simple Canon. At that time, which really wasn't even that long ago, you could get film developed even in the smallest of towns. It was just a simple film camera, and I shot all slide film."
Favorite Camera
"I shoot with a Canon 5D Mark III, and I shoot motion and stills. It's just a beautiful, intuitive camera. I play with all sorts of cameras, but that's my go-to workhorse camera that I feel most comfortable shooting."
Favorite Camera Bag
"I have a ridiculous number of camera bags! They all serve a different purpose. I have a Think Tank camera bag that doesn't look like a camera bag that I love for being on location, if I'm on shooting in a city far away and I don't really want it to be obvious that I have all of my equipment with me. I have a rolling Lowepro bag that I can fit so much gear in and that I can fit in the overhead compartment of a plane. A lot of bags say they can [do that], but they can't."
"There's a company out of LA called Langly, and they make beautiful canvas bags. They're camera bags, but they would be beautiful with anything inside."
Camera Bag Essentials
"I always have two camera bodies — two 5D Mark III's. I shoot with a 50mm and a 24-70mm, a 100mm macro, and those are the staples . . . And they're not that big, either, so it's reasonable for someone my size to be carrying them around on a daily basis . . . If it's a portrait shoot, I might bring an 85mm. Last week, I was in British Columbia shooting surf, and I saw wolves and bears. I had a really long lens and was glad I had that . . . "
"I have like, 20 Chapsticks in my bag — I freak out if I don't. I also bring notebooks, just because as much as we [use our] iPads and iPhones, just writing down ideas and getting someone to write down what something is . . . more personal, ongoing journal that I have. Usually some sort of thin sweater is in there, too, because I'm always cold."
"I work with a lot of amazing prop stylists and food stylists, but sometimes I bring things on my own, like tweezers or gaffer tape, which comes in handy for pretty much anything. And snacks! Often, when I'm shooting, I don't have time to eat, anything and then I feel like I'm about to keel over. Just having some little granola bars or something healthy makes a world of difference."
Read on to discover the one indispensable photography tip she's learned over the years.
Portrait or Landscape?
"I probably shoot more verticals. It depends on the subject matter, but I feel like I'm a vertical kind of person. Even just looking at the images here tonight, when it comes to food, I shoot vertical. I don't really like shooting horizontal when it comes to food. You compress the space in a different way vertically."
"I was a painter before I was a photographer, and I feel like that element really does come in when building a scene from scratch."
Mobile Photography: Yay or Nay?
"I use Instagram all the time and drive my husband crazy! I feel like it's like a loose way of me seeing something, or wanting to remember something or just communicate 'Here's a behind-the-scenes thing.' I love seeing what people I care about are doing all around the world, like interesting, creative people or my friends and family — I like having a little window into their lives. I think that's a great thing about smartphones. I know it inundates the world with imagery, but I feel like it sort of takes photography out of the realm of like, this fine art piece or commercial piece. We can all do it, and it's fun!"
Favorite Apps
"I use VSCO cam, Camera+, those are my two main ones. I use a video app called 8mm. You can just take a lame video of your dog and it'll still be all right. I know that that's the criticism of smartphones, but to me, I take the rest of my work so seriously that it's nice to just be loose about it and not care too much if everything's not perfect."
One Indispensable Photography Tip
"Engage with what you're actually doing — the place that you are, what you're actually photographing, the people that you're around. Because that will make the story you're telling 100 times better. There's a tendency as a photographer to step back, be voyeuristic, and want to control everything, but sometimes the best way to get to a good image is to really be involved, and be aware of what's happening and appreciate what's happening. Be a part of it, rather than observing."