Ford Adds Twitter and Pandora to Sync Programs, Are You Worried About Tech Distracting Drivers?
Are You Worried About Tech Distracting Drivers?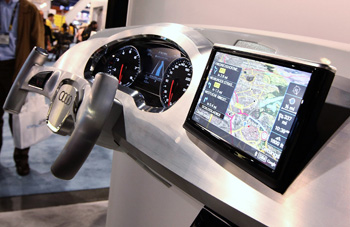 One of the trends emerging at this year's CES is lots of new in-car tech. I wrote about one new gadget announced at this year's event, and a New York Times article details even more, but not without a note of caution. From high-tech navigation systems to audio controls (and in some cases, video), new dashboard "computers" aim to change the way we act on the road.
Automakers, of course, claim that these new features were extensively tested for safety to minimize distraction. But I can't help but think that advances like Ford's planned integration of applications like Facebook and Twitter will cause more harm than good. On the other hand, perhaps these touch-screen and computer like functions are just the wave of the future for the automotive industry. . .a sort-of evolution of the volume knob and GPS systems that most cars already have. What do you think?