Found Object Robots from Anthropologie
Found Object Robots: Love It or Leave It?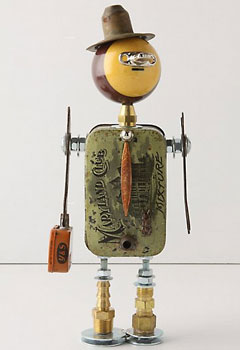 My love for robots continues with these found object pieces from Anthropologie! Artist Amy Flynn searches junkyards and secondhand stores from around the world to find discarded items like pool balls, tobacco tins, screws, wrenches, and other throw-aways, and uses them to create these 10-inch robots from the ground up.
I'm a little smitten by this one, called Traveling Salesbot ($348), who carries a tin briefcase with his timepiece arms. Sure, the price may fall in the "too rich for my blood" category (especially for a robot made of junk), but you really can't put a price on great art — especially when it comes to robots!