Foursquare 2.0 Update
Foursquare 2.0 Gets New Features and Updates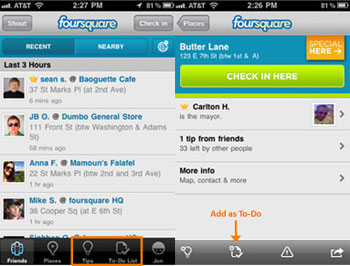 Foursquare announced an update to its popular iPhone app yesterday that makes finding tips and adding to-dos so much easier.
Besides checking in at your favorite (or soon-to-be favorite) haunts, you can also add locations to your to-do list, and get tips on what you should buy, order, or see at various locations. Previously, seeing local tips and your to-do list was pretty easy, but adding them right from your phone wasn't. Find out how Foursquare has changed after the break.
Tips and To-Dos
With the new Foursquare 2.0 update, you'll find that the Tips and To-Do sections have now been split up. Additionally, there's a new "Add as To-Do" button on your lower nav bar so you can easily add locations to your To-Do list on the go. Once you've added a location to your To-Do list, you'll see it marked in your Nearby Places list from then on, reminding you that you wanted to visit. Tips can now be seen in the Tips section, or in the Check In screen for your location.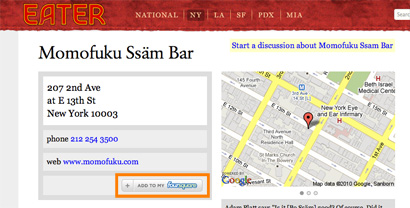 Add to My Foursquare
Now when you're surfing the Internet and come across a mouth-watering review of a restaurant that piques your interest, the "Add to My Foursquare" button will come in handy. Similar to the Facebook "Like" button, it adds that place to your Foursquare To-Do list so you can keep track of all the awesome locations you want to check out in the future. Eater, Racked, Zagat, and a number of other sites have already embedded the button, and the code is easy to add to your site or OnSugar blog as well.
The Foursquare update is available now on the iPhone but will be rolling out to Android and BlackBerry devices soon!