Later tonight, Foursquare will launch its newest version, Foursquare 3.0, just two years after its initial launch in 2009. The revamped Foursquare for Android and iPhone aims to make the experience even more fun, containing functionality designed to help you discover new places, search out places of special interest to you, and get rewarded for checking into locations with friends.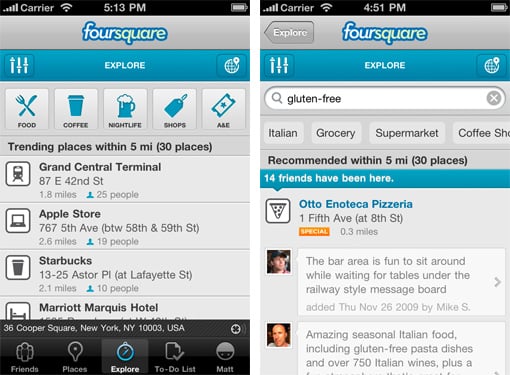 Check out more details of exactly what's new after the break.
Explore tab: New functionality helps you discover nearby locations based on what you're looking for. Suggestions are based on places you've checked into, places your friends have checked into, categories and types of places you typically check into, time of day, and more. When you're searching for a place, Foursquare will tell you why you'll be interested in it. Quick searches for food, coffee, nightlife, shopping, and entertainment are built into the interface for fast access to locations.
More useful Me tab: The same thinking behind the Explore functionality will start to show up on your personal page too and give you the option of turning to friends who are "experts" in certain areas (the best burgers in San Francisco, for example) for recommendations.
A new leaderboard: Foursquare was created as a game — a fun way to encourage social activity and exploration — hence the badges and points. In the newest version, the leaderboard is revamped to include a seven-day barometer of your and your friends' activity. It takes more into consideration than just check-ins, too. New cities, hanging out in groups, and reconnecting with old friends all contribute to a user's score.
New specials for merchants: Free stuff, reduced prices, or other specials for venue mayors are harder and harder to lock down given Foursquare's growth. Now, merchants will have six different scenarios to choose from, offering deals to regulars, groups, newbies, and more.