Foursquare Location Layers
Foursquare's Location Layers Explained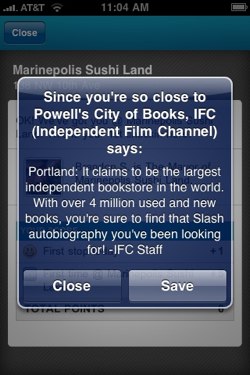 Frequently checking in at your favorite neighborhood haunts can not only brand you the Mayor, but it can save you money. Now, with Foursquare's newest partner feature, you can also earn some knowledge — the company recently partnered with IFC and the Huffington Post to add a layer of news and tips to your next check-in.
Find out how it works after the jump.
When you've checked-in to an IFC or Huffington Post annotated location, you'll receive push notifications (that you can opt-in or out of at any time) letting you know if there's news happening in that area, or if there's a notable or fun fact about the particular location. IFC is taking things a step farther and crowd-sourcing tips to add another dimension to your Foursquare experience.