We humans are creatures of habit, which is why we won't ever tire of that burrito place around the corner, that coffee shop that serves perfect foam to espresso ratio, and that bar with the best buffalo wings in town. We're proud of our stomping grounds, so what better way to rep our most frequented haunts than with real life and virtual visualizations à la Foursquare?
Two personalized maps based on Foursquare data, one created by data visualization enthusiasts Etch and the other via a collaboration between Foursquare and Samsung, reveal just how much of your city's hottest spots you've conquered.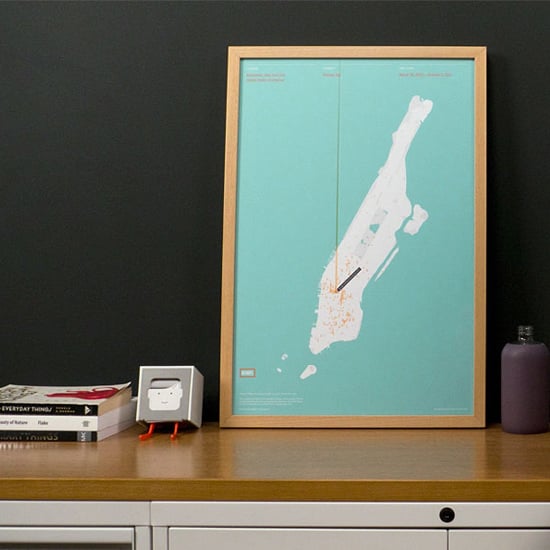 Etch, "makers of fine data products," makes printed maps of info from Foursquare accounts detailing where you've been and how often. The custom, archival heavyweight posters ($48, plus shipping) are printed with digital presses, and they're even fingerprint and smudge resistant.
Triangle-shaped markers represent where you've checked in on the geolocation app, and the triangle's height denotes how often. Etch offers custom visualizations of Manhattan, San Francisco, and Portland, with plans to expand to more cities, both domestic and international, in the future.
Foursquare, in collaboration with Samsung, launched its own version of personalized maps in the virtual realm. Time Machine creates a fun animation of your Foursquare history, and suggests what places you should visit next.
Time Machine also compiles your history, revealing which type of place you check into most, total number of check-ins, favorite weekend spots, coffee-to-beer ratio, distance covered, and other interesting stats. Share the infographic of your geolocation history via Facebook or Twitter, and show the world where exactly your stomping grounds are.