Foursquare Update
Foursquare 6.0 Cuts Down on Dining Indecision
The check-in app Foursquare released an update for iOS and Android (free) today that puts four years worth of data to work on behalf of its burrito-craving, brunch-hunting users.
Since 2009, the location-based social network has encouraged people to broadcast where they are in real time. Three billion check-ins later, Foursquare has revamped its search and exploration functions to better recommend where you should go next.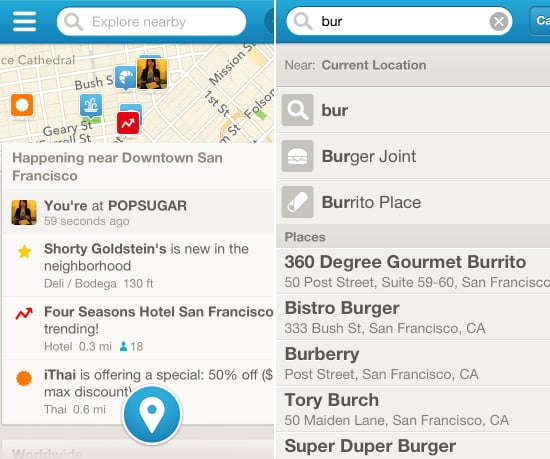 So what's new in version 6.0? The app is smarter about the places you're familiar with — and the ones you're just visiting. After touching down in a new city, Foursquare summarizes the most popular sights and attractions as soon as you open the app. If it sees that you're in a neighborhood you frequent, the app shows you recently opened spots or nearby places on your to-do list.
Foursquare's core features are now more prominent than ever, too: the check-in button is fixed to the bottom of the app's landing screen and the search bar has been moved to the top.
Friends who aren't on the Foursquare train often ask: is it Yelp, Facebook, or Twitter? The check-in app is a hard one to peg down, and the best answer is that it's a little bit of everything. It has a rating and recommendation system like Yelp (although it's not as overwhelming), a social component like Facebook, and the real-time, instantaneous feel of Twitter. But the new personalized location-based features of Foursquare 6.0 might put the app in a league of its own.