Foursquare vs. SCVNGR
Foursquare vs. SCVNGR: What's the Difference?
There's a new geo-location app on the market, and the name is SCVNGR. Yes, all caps. But don't confuse it with the likes of Foursquare or Gowalla, SCVNGR has something else going for it — game play. Want to know more? Here, I'll tell you the difference between everyone's favorite check-in app and the new kid on the block.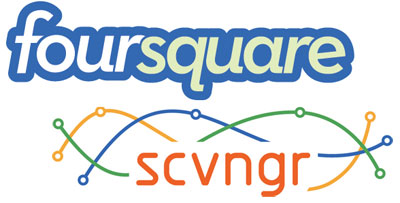 Foursquare
You've met my friend Foursquare, right? It's the app that lets you check in to locations, rack up points, find out where your friends are, and maybe if you frequent a special place enough, become its "Mayor." There are some real-world rewards to checking in on Foursquare as well, like discounts and freebies if you're a "Mayor," along with bragging rights for how many badges you unlock. Foursquare is available for free on your iPhone, Android, Palm, and BlackBerry devices.
Find out how SCVNGR works after the break.
SCVNGR
Like Foursquare, you can check in to locations on SCVNGR, but that's where the similarities end. In SCVNGR, you can also earn points by performing challenges in preloaded scavenger hunts (called Treks), like taking a photo of certain places, scanning a QR code, checking in at certain locations, etc., and discover all kinds of cool things in your city. Not only that, but you can actually build your own scavenger hunts in your town! SCVNGR is free on your iPhone and Android devices.