Free Airport WiFi
Summer Travel: 15 Airports With Free WiFi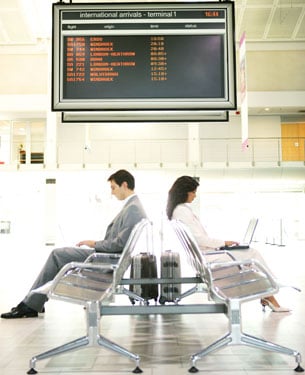 If you've decided to skip the open road and head up to the friendly skies this Summer, it's pretty likely that you'll be spending some time lounging in the airport waiting for flight delays, transfers, or even cancellations. If you're taking along a portable netbook or WiFi-enabled iPad, you can tick away the time by catching up on the news, tech developments, and of course, the latest on Kristen and Robert's are-they-or-aren't-they relationship.
To do this, you'll need some sweet WiFi access. If you can't find a Starbucks in your terminal, not all hope is lost! Check out this list of 15 US airports that offer free WiFi, and chime in if you've found any others!


Oakland International (OAK)
Mineta San Jose International (SJC)
Boston Logan (BOS)
John F. Kennedy (JFK) — In Jet Blue Terminal 5 and Gate 6.
See the rest of the WiFi-friendly list after the break.
Atlanta International (ATL)
Fort Lauderdale-Hollywood International (FLL)
Phoenix Sky Harbor International
Richmond (Virginia) International (RIC)
Las Vegas International (LAS)
San Diego International (SAN)
Louis Armstrong New Orleans International (MSY)
Salt Lake City International (SLC)
Portland International (PDX)
Seattle-Tacoma International (SEA)
Denver International (DEN)
Want even more airport WiFi information? Check out this hot interactive map that lists US and international airports with WiFi.