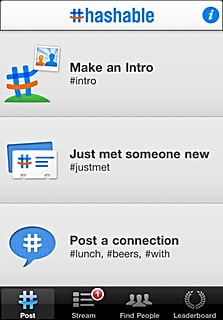 Hashable debuted a few months ago as an invitation-only social networking service aimed to keep track of introductions made over email or via Twitter. Now, its iPhone app allows new users to invite themselves by simply downloading the app. Previously, in order for Hashable to record an introduction, you had to remember to tweet the contacts' Twitter handles and the #Hashable hashtag. The iPhone app eliminates the need to remember complicated steps and offers three easy ways to connect with others: make an intro (#intro), just met someone new (#justmet), and post a connection (tagged with a hashtag like #lunch or #happyhour).
Find out more after the break.
After making a connection with someone, each person receives a link back to the other's profile page through Hashable. The iPhone app works with your phone's contacts, and makes it easy to introduce two people in your address book or record a connection, and allows you to search through past connections by hashtag. These connections can also be shared on Twitter, or you can choose to keep them private.
It's an easy-to-use way to keep tabs on whom you've met, where and why you've met them, and any other important details. The app is available for free in the iTunes Store.