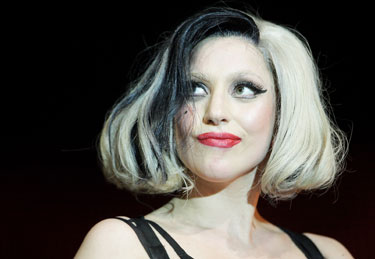 ICYMI, Lady Gaga's latest release, Born This Way is dropping this Monday, May 23. But you don't have to wait to get in on the Gaga action — she's been taking over the Internet in the weeks leading up to the album release by partnering with digitally savvy companies in unexpected ways. Want to get your hands on some free tickets to her show, Gaga-inspired clothes, and swag? Read on to find out how you can, and how she's taking over the digital world below!
Gaga gets down on the farm — Today is the last day to head to Gagaville to listen to one of three new, and previously unheard singles off of Lady Gaga's new album. Zynga announced its partnership with Lady Gaga last week, offering three tracks to be heard only on Lady Gaga's Farmville farm, where you can perform tasks and chores to unlock each single. You can even win tickets to her shows by playing Words With Gaga and using special Lady Gaga words of the day while playing Words With Friends!
Gilt goes Gaga — Gilt and Gilt City will be hosting a Gaga-inspired event starting at 12 p.m. EDT on Friday, May 20 that will feature pre-orders of Lady Gaga's new album, two curated sales from Nicola Formichetti (Gaga's fashion director), a one-of-a-kind Mugler dress worn by Lady Gaga, and VIP access to special events.
Little Monster scavenger hunt with Starbucks — Starbucks launched its partnership — a fun scavenger hunt — with Lady Gaga this morning. Called SRCH, you can scan QR codes hidden within Starbucks stores nationwide (on banners, shelves, posters, and chalkboards), to unlock clues that contain brainteasers, math puzzles, trivia, and messages. Solving these puzzles will lead you to the next awaiting round, which are all timed about two days apart. Finishing the Gaga-themed scavenger hunt will earn you some sweet Starbucks and Gaga swag. I'll even take some free coffees! Additionally, you can buy and listen to Born This Way in Starbucks stores on the 23rd, and get free downloads of her single "Edge of Glory."