Free Online Albums
Website of the Day: Snapjoy, a Dropbox For Photos
Photos have all sorts of homes on the web: Instagram, Flickr, and Picasa, not to mention the images still on your camera or tucked away in your computer. Snapjoy (free) is a new web service that puts those pictures in one place. Import photos straight from Instagram, online albums, or your hard drive, and Snapjoy automatically rearranges them into a Timeline.
Share those images privately with close friends using a secure link, or publicly post them to social networks. Friends can save photos from your album to their own with a feature called Copy, which simply copies the photo to their collection without having to download or import the image all over again — Snapjoy only hosts the one photo, not multiple copies.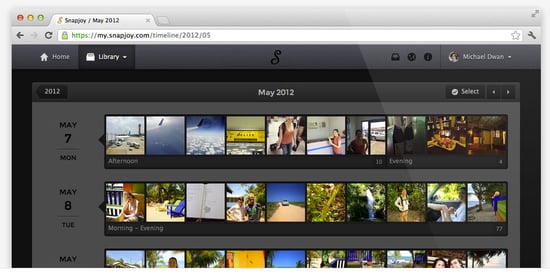 Snapjoy reminds us of Dropbox in a lot of ways. It's efficient and elegant cloud storage that's free and free of advertisements. And like Dropbox, users start with five gigabytes of space, and earn more free storage by connecting various social media accounts or referring a friend. If more room is needed, extra storage can be purchased for $4 (50 GB), $8 (100 GB), and $16 (200 GB) per month.
Tell us what you think of Snapjoy and any other web services you use to organize photos in the comments.