Free Smartphones From Best Buy in December
Get a Free Phone From Best Buy This December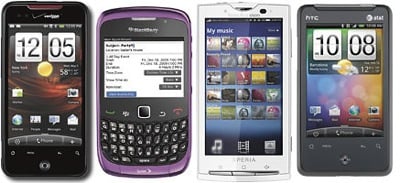 Best Buy's Free Phone Fridays promotion was a big hit earlier this year, and today, the retail giant announced that it would be continuing the free-phone madness through December, but with a little extra kick.
Starting today, and running through the end of the month, Best Buy will be offering up at least four free phones (one from each of the four major carriers — T-Mobile, Sprint, Verizon, and AT&T) every single day. Find out more about the promotion after the break.
Phones up for grabs include the hugely popular Droid Incredible, BlackBerry Curve, and Sony Xperia, just to name a few. Check back at Best Buy's smartphone sale event page daily to see what new phones you can get for free, and of course, you'll need to sign up for a two-year agreement to take advantage of the savings.
Additionally, if you are planning to pick up a phone, Best Buy is also offering a few new services like complimentary upgrade checks to see when you're eligible for a device upgrade, and set-up to load up and sync your new smartphone with your email accounts, social networks, Bluetooth devices, and contacts at its mobile locations.