Free Video Calls
Free (and Easy) Tech Ways to Stay in Touch With Your Parents
Parents' Day is today, and if you've left the nest and aren't really able to catch up with Mom and Dad at home, then take advantage of technology tools and get talking. These five websites and apps are user-friendly and easy for all ages and tech backgrounds. With a few clicks (and very little explanation) you can spend some much-needed quality time with the 'rents — unfortunately, a home-cooked meal is not included.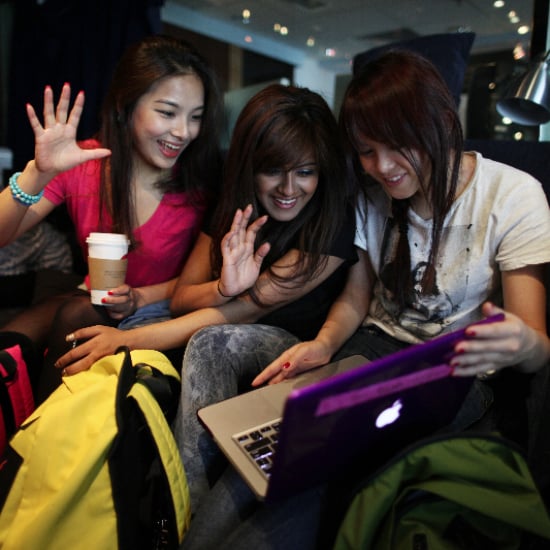 WhatsApp Messenger: WhatsApp Messenger offers free text messaging between app users. If your parents are text-savvy but you're divided from them between coasts or countries, then this free texting app is the perfect solution. You can even create group messaging and send photos or videos.
Skype: One of the best tech inventions to date, Skype lets you video chat and make free Internet calls with the people you may not be able to see too often. Chances are that you (and Skype's 700 million other users) already have an account, so just sign in and sign up your parents! All you need is a front-facing camera, and you and the 'rents can enjoy a little quality time.
Keep reading for three more services that make connecting with family a breeze.
Send an ecard: No one will appreciate this as much as Mom and Dad will. Sites like Hallmark and Blue Mountain offer free ecards. Many can be customized with photos of your recent adventures! This is one small action that means a lot, looks impressive, and will put a smile on your parents' face.
Share on Flickr: Flickr is the easiest way to share your favorite photos privately between your family. With multiple ways to upload your photos and easy-to-adjust privacy settings, you and your parents can exchange memories, whatever your distance. Sharing the photos you want them to see (not the ones they find on Facebook) will bring you closer together.
Facebook: Mostly likely you have accepted your parents being on Facebook. Take advantage of that. Since you check Facebook constantly throughout the day, why not communicate with Mom and Dad there? Send messages, post photos and videos, and even chat with them. Pictures of your college days can be easily hidden on the site, so embrace what Facebook has to offer for your relationship with your parents.
What tools do you use to stay in touch with family?