Free WiFi and Netflix on Nintendo 3DS
GDC 2011: Netflix and Free WiFi Coming to Nintendo 3DS
Everyone may have been talking about the iPad 2 today, but there was something else brewing at this year's Game Developers Conference in SF — a Netflix partnership and free WiFi coming to the Nintendo 3DS!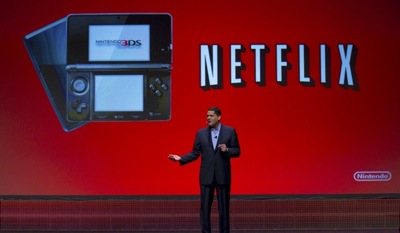 The 3DS doesn't launch for another few weeks, but these are some exciting developments. First up: the Netflix partnership. According to the keynote speech yesterday, you can watch movies via the Netflix app on your 3DS, and pick them up later on your Wii when you get home (or vice versa). Additionally, you'll be able to watch movie trailers like The Green Lantern in 3D without the need for dorky glasses.
Want to know what's up with the free WiFi? Find out after the break.
While it would be awesome to have built-in 3G connections free of charge, like you get on the Kindle, free WiFi from AT&T at over 10,000 locations is a start. Connect wherever there's a signal — bookstores, coffee shops, etc. — and you can stream movies and play games with your friends free of charge.
When is all this happening, you ask? Both of these awesome new features will hit the 3DS thanks to a software update this May.