Free iPhone 4 Cases at iPhone 4 Press Conference
Steve Jobs Takes the Stage For "Antennagate" Press Briefing; Surprises and Delights Us With Free Cases
Steve Jobs took the stage in Cupertino this morning to discuss the recent state of events surrounding the iPhone 4. Steve started his "Antennagate" presentation by saying "We're not perfect" and went on to reveal what Apple has found over the past 22 days of research: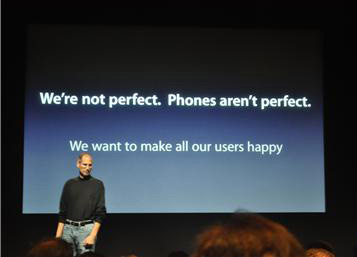 mainly, that touching your iPhone 4 in a certain way isn't unique to Apple's products — it also effects other phones like the BlackBerry 9700, the HTC Droid Eris, and the Samsung Omnia — and that the team didn't think that this would be "a big problem."
And apparently, it's really not. Statistics show that less than half of a percent of iPhone 4 users have called AppleCare to complain about reception problems, and only 1.7 percent have actually returned their devices, which is significantly less than the iPhone 3GS's return rate of 6 percent. And according to AT&T's data, the iPhone 4 drops one additional call than the iPhone 3GS does for every 100 calls made.
So what is Apple prepared to do about the so-called "Antennagate"? Find out after the break.
Starting late next week, everyone gets a free case! Those of you who already bought your Bumper cases will be refunded, and those who haven't can log in to Apple's website and choose from a number of cases (not just the Apple-issued Bumpers), and it will ship to you free of charge.
Additionally, the proximity sensor will be fixed with the next iOS 4 update, which should solve that pesky reflective ear canal problem we've been hearing about.