Fringe Season Four Premiere Party Tips
Tips For Throwing a Fringe Premiere Party, Walter Bishop Style
Fridays will finally be back to normal with the season four premiere of Fringe tomorrow night at 9 p.m.! If you've been waiting all Summer to see what the heck happened to Peter Bishop, gather a few fellow sci-fi nerds and plan on making a night of it with your own premiere party. And since Walter Bishop is arguably everyone's favorite character, why not theme things out in his honor? Below, a few tips to throwing your own Walter Bishop-themed Fringe fete.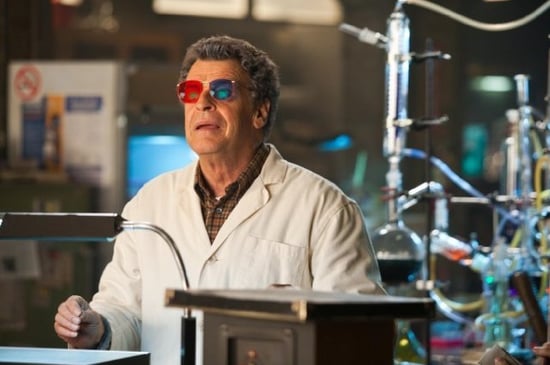 Dress the part — Encourage guests to wear their favorite long and oversize cardigans, which is a staple in Walter's wardrobe.
Prepare a candy bar — In honor of Walter's sweet tooth, set up a candy bar so guests can graze. Stock the bar full of Red Vines, cotton candy (blue, not pink), and pudding pops, which are some of Walter's favorites. The bar can come complete with a cocktail of jelly bean "medications" in tiny water cups to replicate Walter's med schedule while he was at St. Claire's.
Sweet and bubbly drinks — Walter loves root beer floats, and I don't blame him. The combo of root beer and vanilla ice cream can keep all your Fringe fanatics happy. Take things a step further and serve them up in lab beakers!
Blueberry Pancakes FTW — Give your guests a break from all the sweet treats by providing them with homemade blueberry pancakes. They're not just for breakfast anymore.
Play Walter Bishop-Themed Games — Walter is the perfect target for an adult-drinking game. Air a few episodes in the background while guests are getting settled, and every time Walter mispronounces Astrid's name, drink! Serve shots in test tubes and small volumetric flasks if you can get your hands on them. Or, you could collect some interesting facts from the Fringe Wiki and play a round of Walter Bishop Trivia after the show ends.