Fun Activities For Geeks
18 Spring Activities to Get Your Geek on
Whether you prefer to be in the kitchen or on the road, we've come up with several creative ideas to keep you busy this Spring. Looking for some new pastimes? From DIYs to nerdy day trips, we've got 18 fun, geeky ideas to get you through the season.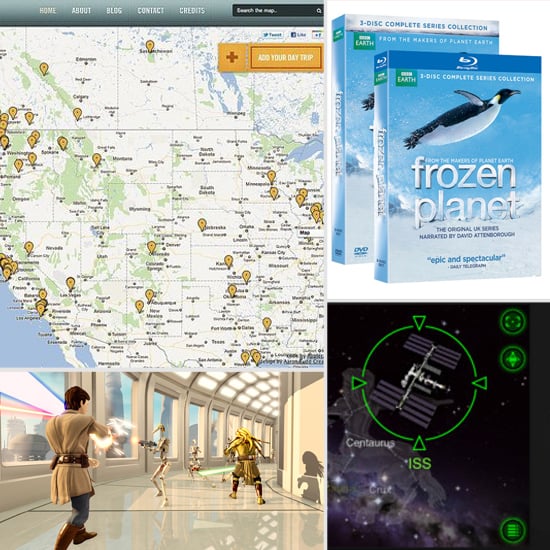 Have a documentary marathon: Not sure where to start? Check out Frozen Planet, a seven-part series from the team behind Planet Earth, to learn more about climate changes (and adorable animals!) in the Poles.
Become an amateur astronomer: Pick an especially clear night and look at the stars with the 5 Stars Astronomy Guide App. It's simple: hold your phone to the sky and you'll learn all about the constellation in front of you.
Host a Comic-Con party: Get your pals to dress up as their favorite comic book characters and go for bold, bright decorations. Keep your favorite comic-inspired flicks playing in the background and serve drinks in these Vintage DC Comic Tumblers ($125 for 6).
Try a coding class: Do a bit of research to find local coding classes at a community college. Sign up solo or invite your Internet-obsessed pals to join so that you can help each other learn the HTML ropes.
Keep reading for more geeky things to do.
Test the latest video games: Get your gang together to play Kinect Star Wars.
Go educational: Visit a science museum in your city or take a tour of an area you've never been to before.
Show off your smarts: Hit up trivia night at a local bar with your friends.
Deck out your tech: Scan through your favorite Instagram snaps and design a Casetagram iPhone case.
Start a blog: Go all out and create your own blog, or pair up with a pal for a creative, just-for-fun project you can do together.
Go green: Educate yourself on the green movement and track your carbon footprint.
Try a geeky road trip:Take a quick vacay using Nerdy Day Trip.
Fulfill your Hogwarts dreams: Visit the Harry Potter theme park and sip some butterbeer.
Learn about fellow geeks: Make a list of must-read geek biographies, including the recent Steve Jobs biography.
Have a Mario-themed Nintendo party: Channel a bit of nostalgia with all things Mario — costumes, decorations, and (of course) some video games.
Be a nerdy chef: Bake your own geeky cake for an impromptu celebration.
Browse a comic book store: Call up other comic enthusiasts for a day spent scanning the shelves, or organize a comic book swap with your pals.
Discover your green thumb: Use gardening apps to help you create your own backyard paradise.
Get crafty: Do a DIY camera bag project or make one for a photography-loving friend.
Do you have any ideas to add? Share them in the comments below!