Funny Facebook Flowchart
Flowchart Tells You If You Should Friend Your Parents on Facebook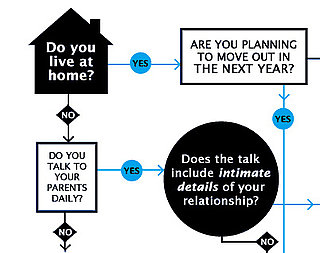 If you're not already friends with your parents on Facebook, deciding whether or not to Facebook friend them depends on several factors, including but not limited to the amount of information they'll have access to if they can view your profile.
While the level of control you have over your profile will most likely keep your parents from seeing anything you don't want them to see, this funny flowchart created by CoolMaterial provides a quick and concise way to make the decision whether or not to friend your parents. It includes funny questions like, "Do you care if your parents "Like" everything you do?" and, "After a night out, do you drunk Facebook?"
Check out the full flowchart after the break.