Funny iPhone Autocorrect Texts
Website of the Day: Damn You, Auto Correct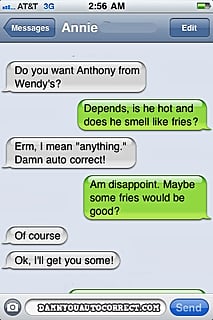 I don't know that I've laughed this hard at a website in a long time. Anyone with an iPhone is familiar with the helpful/annoying autocorrect feature. While most of the time my phone gets it right, sometimes it'll get a word horribly, horribly wrong. Thus, Damn You, Auto Correct was born. The site is a hilarious compilation of autocorrected messages sent by users who have experienced major autocorrect FAILS.
Just one warning: the site is so hilarious, you'll probably find yourself sucked into all of its awesome.
Do you have an interesting website you want to share? Join the Website of the Day group, and blog it for a chance to be featured on GeekSugar.